10 Emerging Megatrends and G20 Economics Best Practices for the Telecom CEO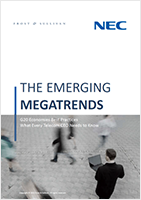 Telecommunications companies are facing multiple challenges to their core business that outline clear opportunities for network transformation and new service roll-outs. Examine the 10 megatrends and best practices that every telecom enterprise CEO needs to know.
About the report
This report identifies 10 megatrends that will shape the future of the telecommunications domain, while evaluating the relative and inter-dependent impact of each of these trends.

The key background information and vision for 2025 for each of the 10 megatrends is broken down in-depth, and a number of pertinent case studies are offered as concrete illustrations.

Some of these include examples from the world's top telecommunication service providers, like France's Free Mobile's push to reinvent the carrier model, Verizon's Precision Market Insights to leverage customer data to target and manage advertising, Japan's Softbank's partnership with GE for its Predix software platform that will bring intelligence to IoT applications, AT&T's 5G roadmap, and Deutsche Telekom's migration into SDN-NFV, which the report states will be a competitive necessity by 2025.

The report also addresses the opportunities with wearables, threats from disruptive technologies—namely Apple's SIM free threat, and over the top services like Netflix, collaborative security, and customer churn management.

Find out the key agenda for C-Level officers in navigating the evolving telecommunication landscape that unfolds through these megatrends.
The model of the traditional telco is aggressively being revamped, propelled forward by consumer expectations.

Carriers must be modern shape-shifters, moving from single-play wireless or wireline voice services to all-play digital leaders.
Full report Download
Please fill out this form to download PDF.
Notice: By supplying my contact information, I authorize NEC and its agents ("NEC"), to contact me (via email, phone and/or mail) about NEC, its products and services, including product releases and updates, seminars, events, surveys, trainings, and special offers. I will have the opportunity to opt-out of future communications, and NEC may use data I have provided in accordance with the NEC online privacy policy.
Please review NEC's online Privacy Policy which is found at: http://www.nec.com/en/global/privacy/index.html